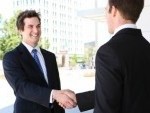 People today don't seem to have the haggling skills of past generations. More and more consumers are content to pay sticker price or MSRP on everything they buy. Perhaps it's lazy shopping, or maybe shyness is plaguing our society. Whatever the case may be, it's time you started learning to negotiate for your purchases again. There are 5 things in particular that you should always negotiate.
The Price of a Car
More negotiations happen at car dealerships every day than at any other kind of business. Cars are very expensive, and a purchase like this is an investment of thousands of dollars and years of monthly payments. Salespeople at the car dealership will typically offer flexibility in payment plans, but don't forget to negotiate the total price of the car. Your salesperson would rather trim the price of a car on the lot than risk missing out on a sale.
Mortgage Rates
If you ever find yourself on the real estate market, looking for a new home, be sure to take some extra time to find the best rates on a mortgage. If you have a good credit rating, you should be able to haggle for a lower APR. You may also be able to negotiate the elimination of processing charges and closing fees. These may not seem significant compared to the price of a house, but there is a potential for several thousand dollars in savings if you negotiate with mortgage lenders.

Memberships at the Gym
Staying fit isn't easy in our hectic world. It can be tough even to find time to go to the gym, much less pay for a membership. Gyms work a bit like airlines in the way they offer prices. If you sign up during the slower season, you'll typically be offered a lower membership rate right from the start. Do your homework and find out what your friends are paying for their memberships. Many gyms will be willing to cut you a better deal in order to increase business and get an edge on their competitors.
Network Contracts
Monthly contracts like cable, phone and internet utilities can be very expensive, but if you know how to carry out negotiations you can get yourself the best deals every time. The best time to negotiate for better rates with these service providers is near the end of your current contract. Talk to your representative about any service problems you've experienced, and mention that you're considering taking your business elsewhere. These contracts are the life blood of cable, phone and internet providers, and they won't want to risk losing you.
Personal Storage
Perhaps you're taking an extended vacation, downsizing to a new home, or storing supplies for a business start-up. Whatever the situation, you're going to need a storage solution, and personal storage services are usually your best bet. Every company offers its own rates for lockers and other facilities, and those rates are usually less than ideal. However, you might be able to get a better rate from one company just by mentioning a Pods coupon offered by their competitors. Many companies are willing to match prices in the name of securing your business.