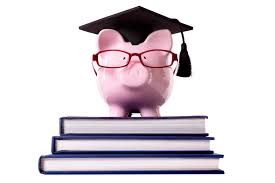 Living on student loans usually means a less than luxurious lifestyle that can be hard to stick to. With that said if you're in the midst of your online bachelors in business and find it's hard just to get by money-wise, then you're going to love these money saving tips we've put together for you.
Borrow Textbooks
If your course requires text books, then it's likely you will be spending a small fortune purchasing them. Whenever possible, look to borrow copies from your local library, or even look for gently used copies that you can buy for a fraction of the cost.
Fast Food is Your Enemy
We all know that students live busy lifestyles, and that usually means a healthy dose of fast food. Here's an interesting experiment for you to try. Over the course of one or two weeks jot down each time you purchase food or drink and the cost of the item(s). This includes all those random coffees you grab here and there. At the end of the week add up what you've spent; you may find yourself a bit shocked how quickly that one dollar here and two dollars there adds up.

Stocking your place with quick, tasty, and healthy snacks will give you the boost of energy you crave and save you a fortune. Just make sure the snacks are easy to prepare so that you are more likely to grab them. If you have enough storage space, make meals in advance that you can freeze, so again you save yourself time when you are feeling hungry.
Get Rid of your Car
Now is the time to opt for public transportation and a bike. If you currently have a car then you are paying for car insurance, gas, maintenance, parking, and possibly a car payment. Once you take each of these bills out of the equation you'll be saving yourself a lot of money.
Start Couponing
Couponing has become a pretty big trend here in the U.S. and it's no wonder, as people are literally savings hundreds of dollars a month on their grocery bills. Here's your chance to jump right in and take advantage of the many savings. And it's not just groceries; there are coupons for all kinds of services and products.
Take Turns Entertaining
Instead of you and your friends going out for drinks and a meal every weekend, why not take turns hosting at each of your places. Each person will take a turn providing the snacks and drinks, which will end up saving lots of money in the end.
Get Creative with Clothing
Of course it's nice to buy new clothes on a regular basis, but if you're on a tight student budget it's probably not possible. Instead, get creative with your clothing. Look for ways to accessorize pieces in fun and trendy ways by using what you already have on-hand.
Keep Budget in Mind
As you study for your online business degree it's important to keep a budget in mind. With some small cuts here and a few there, you'll be surprised by just how easy it is to keep to that budget.